MN Series Mankato Race
Two more races in the books. Mankato was fun, although my legs were in a lot of pain even before the start. On top of that the back was super tight and twisted, but I had fun and felt like my body rebounded for the last two laps. It had been 2 years since I lined up for a MN series race and at least 10 since I have been to Mt Kato. Gotta say, of the MN courses I have raced this is my favorite. Great combination of trails there. A really bad starting position combined with crappy legs had me in 22 overall. On a plus my lungs were awesome. I am not sure if that was a sign that I just wasn't able to fully push myself though. Looking to do better next time I show up to one of these races.
Me in the black. Thanks to Jay Richards.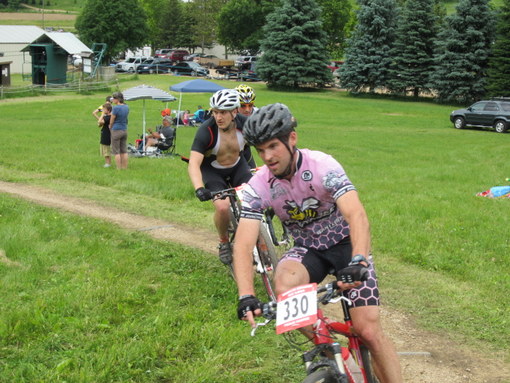 Thursdays at Whitetail Ridge
Thursday night I found myself with the ability to finally check out the racing in River Falls and shut Bob up from his constant taunts to get out there instead of Buck. I took the "win" over Nate Lillie. Not nearly the turn out for this race with maybe 8 guys total, but the trails are an absolute blast. Nick and Bob are super cool guys that run the night and trails. Buck Hill is nice for the family aspect and finding a deep tough field, but I would much rather ride the trails in River Falls any day. Only complaints to making a an awesome trail better would be that they are not longer (6.5ish miles) and not closer. Consider making the trip and rip it on the super fun dirt. That night was really nice as it was one of the few times this year I toed some kind of start line and felt good.
Picture stolen from Bob, but he stole my heart so we are even.
Cheater, Cheater, Pumpkin Eater
"I definitely saw him cheat".
This little gem came from a friend that also raced Mankato. He saw a certain gentleman shortcut a significant portion of the course on the first lap as if something happened and he was going to DNF, but instead joined back in the racing action. I would pass this same individual towards the end of the race. Not cool at all. I have debated "outing" him, but since I did not see the infraction I decided not to. I can say that I met Jan Rybar for the first time after the race as we cooled down and he seems like a great guy. Jan = not a cheater. I understand this same cheater had been banned from Mankato racing years ago, but somehow made it in.